Minneapolis elections
From E-Democracy.org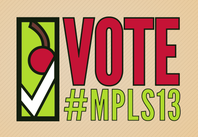 Welcome to the non-partisan, voter crowd-sourced election information directory for Minneapolis. Share http://e-democracy.org/mpls13 via Facebook.
Get informed, then discuss on the Minneapolis Issues Forum with over 1,900 voters or chat via #mpls13 on Twitter.

Candidate Website and Contact Information
Minneapolis 2013 Voter Guides - Direct Links
Related Links and Discussion

Please Reuse Content Freely
Election content put up on the E-Democracy.org site is open to use, reuse by anyone for any purpose, both online and in-print using the Creative Commons attribution license. The only requirement is that you credit the source so we can involve more people in building an up-to-date election information resource.
Individuals or organizations interested in using the Internet to collaboratively gather and disseminate election and candidate information on an expressly non-partisan basis in Minneapolis, should contact E-Democracy.org for more information.
Please Link to http://e-democracy.org/mpls13
Create your link and grab this logo. If you are a candidate, let us know and links to your site will be listed in the order that you notify us that you've added the link.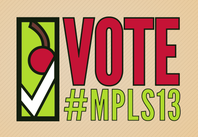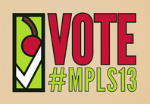 Thank You
Thank you Tim Leisio for logo design. Add this logo in various sizes to your site and link them to: http://e-democracy.org/mpls13
Home - Mobile - Forums - Wiki - Blog - About - Help - Contact - People - Donate - Rules - Archives